Mirage Revolution
​
This is our latest piece of equipment,
Flexibility is the keynote of this playground experience. The three child ride is suitable for children of all abilities but the firm contours of the specially developed Mirage seat provide ideal support for disabled children in particular. It is therefore ideal for interaction between all ability groups. The speed and excitement is determined by the children (or adults) who 'power' the ride.

It was supplied by SMP playgrounds who produce play and leisure equipment.
Wheelchair friendly trampoline
Sea cadet using the all ability tram
Wheelchair friendly trampoline
Rolli Trampoline
​
We love our brilliant all ability trampoline. This trampoline is for disabled and non disabled people.

Being active is good for you - especially for people with limited mobility. Huck has developed the 'Rolli' Trampoline for wheelchair users: sloping edge panels enable the surface level trampoline to be accessed safely and easily. The flexible trampoline surface allows gentle rocking and suspension regardless of the person's weight. Because of the compact dimensions, an accompanying person can stand in direct contact with the wheelchair user, which is important for example for people with severe disabilities.

Not suitable for electric wheelchair users - only manual pushed ones.
It was supplied by Huck Nets (UK) Ltd of Bridport in Dorset.
Wheelchair friendly seesaw
​
How fabulous to be able to wheel a friend onto this totally accessible piece of equipment. No steps, no barriers and large enough for more than one wheelchair at a time! A really good example of inclusive play.
The seesaw can be purchased from Sutcliffe Play
A010_002_Wheelchair_AbilitySwing_2_Flat_Seats_3_Guards_Front
Ability 3 swing
​
This is the most brilliant swing of all. Wheelchair users can use it provided they have a RADAR key. At one side of the unit is a roll on ramp for wheelchairs. Once the rider is in place, the carer can push the swing as high as they both feel comfortable with. This wheelchair swing is enclosed with a sturdy fence, so that active toddlers will stay out of harm's way. The centre swing is a 'boat seat swing' which is ideal for people with disabilities. This swing is tilted, so that visitors who can only lie down can swing to their heart's delight. The third swing is a traditional swing but it has an extra wide flat seat so that adults can join in the fun.
The Ability swing was supplied by GL Jones Playgrounds Ltd
wheelchair-friendly-roundabout4
wheelchair-friendly-roundabout3
wheelchair-friendly-roundabout1
wheelchair-friendly-roundabout4
AbilityWhirl - Wheelchair Accessible Roundabout
​
What an innovation... Nobody knows how many times children in wheelchairs wish that they could climb aboard along with everyone else. Now they can because this wonderful roundabout will seat two wheelchairs and two seated riders. All that is needed now, is someone to push...
The AbilityWhirl Roundabout was supplied by GL Jones Playgrounds Ltd
The Big Unit
​
This most robust piece of play equipment in the Play park is the largest, and boys and girls of every age love to clamber over it. With three slides, ladder, climbing bars, rope support mesh, moveable walkways, hoops to dangle from and lots of integral play parts.
The Big Unit was supplied by Lappsett UK Ltd
The Ramped Sandpit
​
Not only youngsters but Grannies too enjoy time in our sandpit.
The Ramped Sandpit was supplied by Lappsett UK Ltd
The Nest Swing
​
We have two of these hugely popular nest swings as there is often a queue to get on board. As you can see more than one child can fit into it. Everyone wants to have a ride either as a single or with a pal. The very best thing about it is that children who do not understand the principle of 'holding on tight' simply don't have too... The centre of the net is literally a nest that keeps even the most disabled child completely snug as they swing.
The Nest swing was supplied by Lappsett UK Ltd
Wheelchair Accessible Picnic tables
​
Sensible tables that can accommodate a wheelchair at either end
The accessible picnic tables were supplied by Lappsett UK Ltd
All weather Shelter

​



The wooden shelter provides shade in the summer or shelter from more inclement weather, it is also a great place just to chill out.
The all weather shelter was supplied by Play Line Designs
Make it Rain Panel
Ball bearings fall through this toy as the circle revolves. It is a soothing toy that captures many childrens' imaginations and can be used in any weather condition. We have noticed that this piece of equipment is popular with absolutely every age. It is one of the most used items.
The Make it Rain panel was supplied by Play Line Designs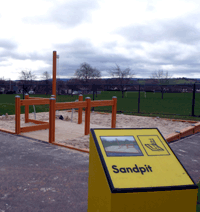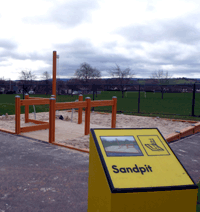 Information Signs
There are information points around the park for non verbal visitors and those who like to use Braille. These signs can be supplied from MK Design. Parents and Carers can download the Widgit Symbols (PDF) so that prior to a visit they can print off the symbols for use in the park.
The information signs were supplied by Parc Signs Ltd


Spiral Musical Chime bars
Bang bing bong. Strike the bar with the beaters and you too can make music. The notes go up as the height increases. This equipment works best with more than one player. Co-operation is the name of the game.
The spiral musical chime bars were supplied by Garden Escapes


springtoys-sound-effect-for-swing
springtoys-sound-effect-for-swing
Octavia
We have also installed a very clever gadget called Octavia which gives out pleasing sound effects as a reward for effort on the swing. The higher the child or adult swings, the more cheerful noises he or she will hear as an encouragement to hard work.
The octavia was supplied by SMP Playgrounds